Overview

Overview

SocialSite is a private social networking website that facilitates learner-learner and learner-teacher communication. It provides a complete solution for sharing study / social content and opens a platform for discussion, sharing and interaction - all in a fully managed, controlled, safe environment.

Functionality is set up similar to other familiar social networks and is thus extremely easy to use. Users will be able to start using the system with practically no learning curve.

Data is stored on our dedicated servers, as well as on the cloud, making content instantly available anywhere in the world.

Management

Management

Powered by state-of-the-art technological architecture, SocialSite also has a full management team ensuring for a smooth and uniterrupted user experience. Our management team is ready to provide support, answer questions and help users in the (unlikely) case that they might get stuck in using the system.

Our management team also provides pro-active monitoring of user content to ensure a safe and pleasant experience. All users have the option to report content for review, after which our management team will quickly review and remove any offensive content. Details will be communicated back to the school for taking any required action against the involved party.

We understand the seriousness of allowing children to share content over the internet and take responsibility for monitoring, reviewing, removing and reporting on any offensive content.

Safety & Security

Safety & Security

SocialSite runs in a secure and private environment, limiting users to only people directly associated with the school. The complete list of users are thus part of your school, ensuring that data is only available to a selected audience.

The SocialSite management team are the only source for adding users to the system. We can clean the system before each school year and add users from class lists provided to us by the school.

Users are able to update their own details after their accounts have been set up. Any changes needs to be supplied by the school to the management team to ensure that no unauthorised access is allowed.

User accounts are secured with username and password login details and can be revoked upon request.

Content

Content

A variety of content can be shared on SocialSite, using a variety of different methods and settings. Users can post data directly to the universal timeline, post it in groups or events or share it on their own profiles.

Sharing photos, videos, messages or files have never been easier. Limit content to your own friends, or group members, or event participants.

Create your own groups, invite friends, share related content. Or create an event, invite friends and keep everyone up to date. Upload homework notes for people to download, comment on photos and videos - these are just a few of the benefits of using SocialSite.

Whether you receive a private message, a comment to a photo or a new event invite, SocialSite will inform you by displaying a notification in-site, as well as send an email notification.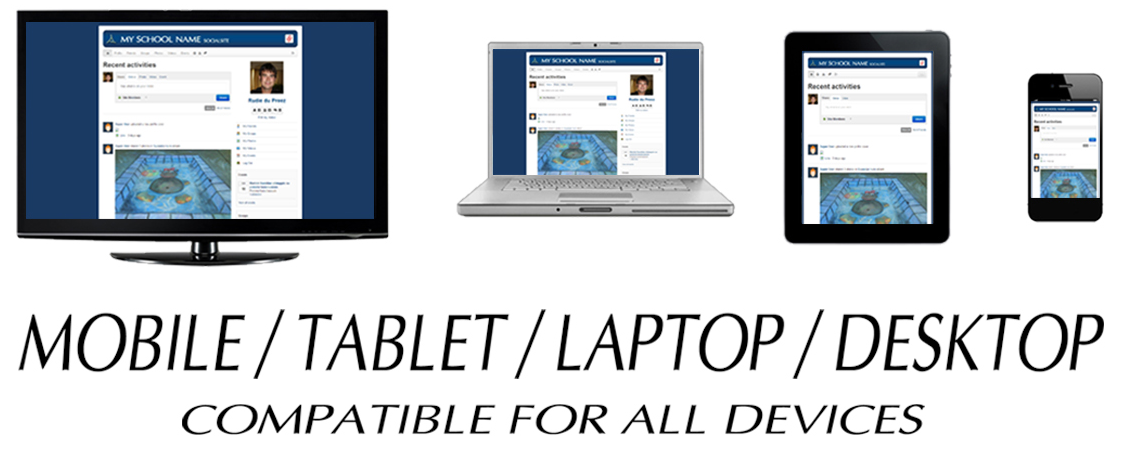 SOCIALSITE MANAGEMENT FEATURES
Load Class Lists
Create User Accounts
Review Offensive Content
Inform School of Misconduct
Reset Content
Email / Telephone Support
Safe, Reliable Cloud Storage
NO admin / additional work for teachers or learners